A collection of promotional designs for Oklahoma Gift Shop in Manchester, United Kingdom.
Following a company-wide rebrand, a set of printed sale materials were created as part of a goal to increase branded content throughout Oklahoma's physical and digital spaces.
An inexpensive printed signage concept was developed to showcase sale products on the shop floor. The design allowed shop floor staff to personally customize offer information on each sale sign and display in free standing acrylic frames. 
​​​​​​​
Incorporating individual handwriting styles of staff members allowed the independent brand's personal approach to remain very much present in the rebranded signage. Branded stickers could be used to assist customers in easily identifying discounted merchandise through colour categorized labelling.
A set of graphics using hand drawn typography were created to advertise store wide discounts following the Christmas period. The concept was to create an overly enthusiastic set of expressions in a bold retro font to compliment the kitsch aesthetic of Oklahoma's customer base.
The designs were printed in vinyl to placed to sit amongst the front window displays, advertising sale items and drawing in foot traffic from the street.
A splashy summer window vinyl concept was created using hand drawn illustrations and digitally presenting them across the shopfront's three primary windows.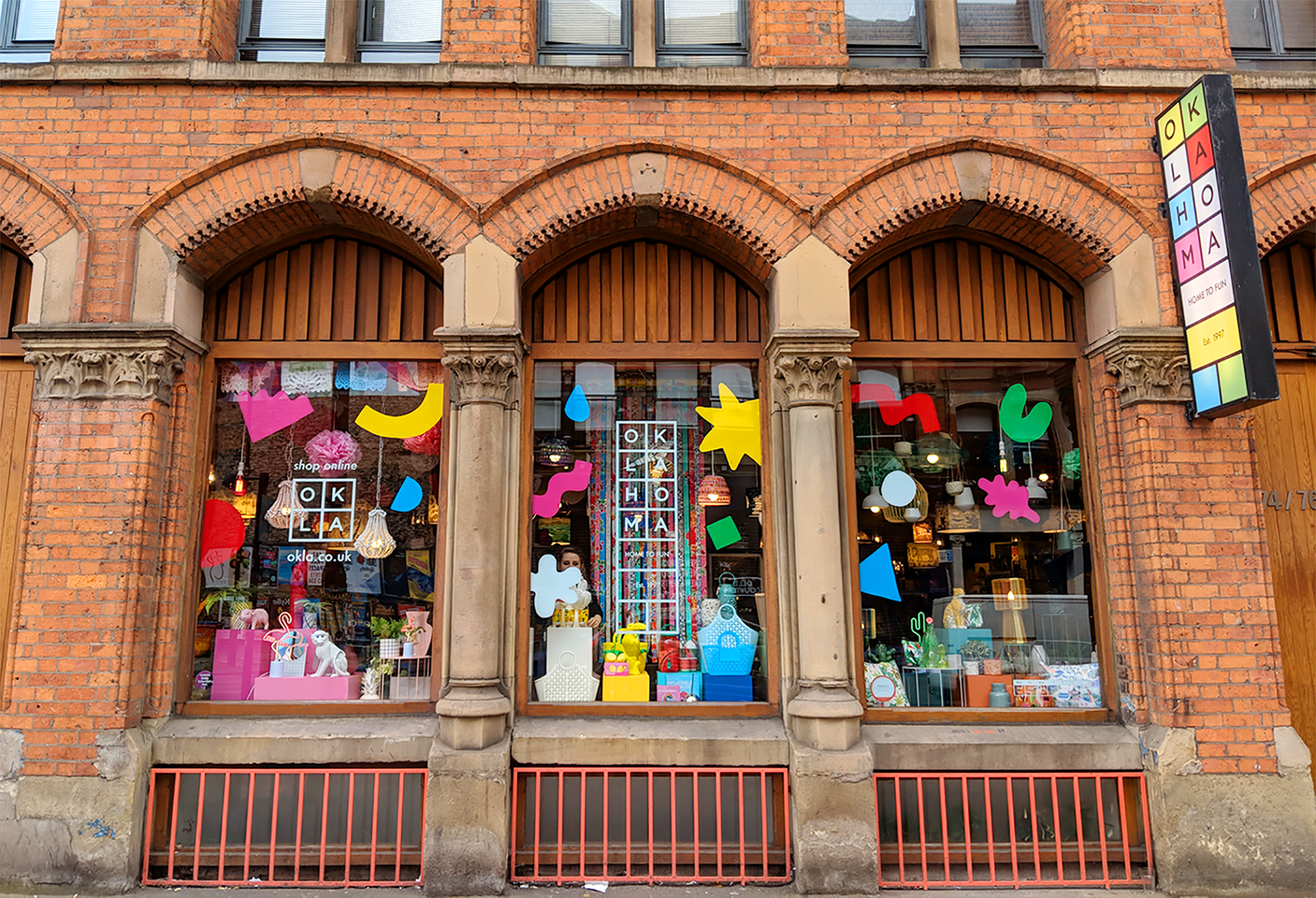 A business founded by a woman with determination deserves a kick ass International Women's Day event. 
For the brand's 2019 function, customers from throughout the North West were invited to a "women in business" knowledge sharing and advice session after hours on the shop floor. Speakers included Oklahoma founder Nicola Payne alongside independent Manchester makers Amy Victoria Marsh and Nicola Rowlands. The goal of the session was to share insight from both perspectives of retail and wholesale business in a colourful, eclectic setting.
Visuals created to promote the event included a poster design that was used as street advertising, digital newsletter invites and graphics for Instagram, Twitter and Facebook. The theme was to stray from stereotypical "feminine" themes and promote the event as a fun and educational evening for all genders.